2018.02.03

"Oshare-no-kimochi wa yoku wakaru" English version homepage     英語版ホームページ

Superior cleaning care for your fashionable clothing

"Oshare-no-kimochi wa  yoku wakaru"
〈We know your sensitive feelings for good fashion〉

〒652-0801
Hyogo ken Kobe city Hyogo ku Nakamichi 9 – chome 1-11
TEL: 078-575-9841
MAIL: info@osyare.org
Opening Hours 8: 30-19: 00
Holidays: Sundays / Public Holidays, Holidays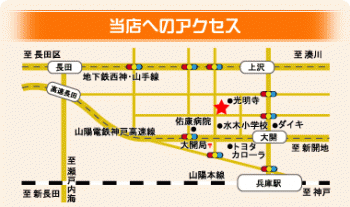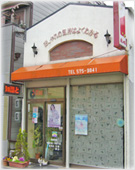 Our cleaning shop offers even a slow but very careful finishing service on your clothes,with spending a certain time.
——————————————————————————————————
Our  cleaning  shop named "Oshare-no-kimoti wa yoku wakaru" 〈mean"we know your sensitive feelings for good fashion"〉  is located in Hyogo-ku,Kobe, Japan.
We also offer a good stain removal service with our highly skill
ful technique for any people living in all over Japan with using a parcel sent through a home delivery.
In case you have refused by other shop, why don,t you consult with us?
Our highly skillful cleaning technique
Our skillful cleaning method utilizing the latest technique and information,will not leave any smell on your clothes since we use DRISOL of the highest quality.
For example. the aqua-cleaning method to remove sweat -stains which cannot be removed by dry cleaning from non-water-washable clothes, with using special detergent and silastic which will not damage the feel of  a fabric.
 Our services available    Skillful cleaning
● Resurrection processing
● Bleaching
● Polymer processing
● Delivery Cleaning              
● Normal cleaning
● Stain removal
●Aqua-cleaning
Restoration processing
In our shop, we can remove the dirty yellowing which can not be removed by the chain store, so we recommend special washing and surface treatment.
When you try out clothes that you have not worn for a while, the whole is dirty, the collar and sides are yellow and dirty. . In such cases, please do not give up.
The restoration process is a "special restoration" technique that removes yellow dirt.
Yellowing due to dust, yellowing due to cigarette smoke
Bleach all items, bleach the yellow shades of both armpits and return the yellow part to its original state.
2,160 yen (tax included) ~
Restoration processing
Before stain removal          After stain removal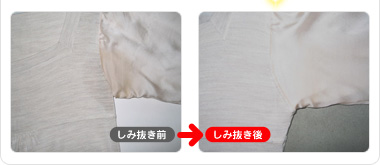 2,160 yen (including tax) ~
Stain removal
Remove special dirt, yellow tints, wine, etc.
Processing of point dirt is usually added to the cleaning fee.
Plus 540 yen (tax included) ~
Before stain removal        After stain removal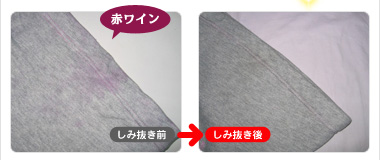 Point bleaching processing is usually from cleaning feePlus 540 yen per place (including tax) ~
● Polymer processing
Because it is polymer water repellent effect is different. Longer life span.
How to play snow and rain is different.
One point attachment ¥ 860 (tax included)
Example · raincoat, ski wear
Even if it becomes dirty with polymer processing, dirt easily falls. Recommended for ski wear and golf wear. It protects clothes from sudden rain and spills of drinking water, so it is clean and comfortable. . This polymer processing is special processing which makes it hard to attach rainwater and dirt.
●Aqua-cleaning
Using a special detergent or silicone, it is a cleaning method to remove sweat and dirt without impairing the texture of the material of unwashed items such as wool and silk.
Royal cleaning is the same price
Dirt removal such as sweat is an aqua cleaning finish.
Yellowing of clothes is the result that dirt remained without falling completely, special wet cleaning and dirt removal are necessary to remove dirt.
price
Sweater             ¥  1,620~
Jacket                 ¥   1,940~
Pants                  ¥   1,620~
Skirt                   ¥   1,620~
Court                  ¥   2,700~
● Normal cleaning
Even a regular course was distilled
It is high quality and safe as it is washed with solvent. <Clean the contaminated solvent with gas to make a clean clean solvent.
We also offer services such as delivery to neighboring people. Please contact us by phone or e-mail.
Extra charges will apply depending on the material and luxury brand items